Teri fìtseng
Fìweptseng lalmu kelku pusenga relä alu LAYON YAYO, slä ke lu nulkrr, taluna tsarelit ke vängar ngivop. Set lu kelku ayrelä a Na'viteri sì 'okvurä relä apuseng sì aysäfpìl oeyä.
Pelun syaw fìtsengur LAYON YAYO tup Layona Yayo? Taluna lu tstxo na pum alu Toruk Makto ;P
About this place
This used to be the home of the Na'vi fan comic called LAYON YAYO. Now it is just storage for my Na'vi fan art, the remnants of this now dead comic project and my thoughts.
Why call this place LAYON YAYO instead of Layona Yayo? Because it's a proper name, much like Toruk Makto ;P
Über diesen Ort
Dies hier war einmal das Zuhause des Na'vi Fan-Comics namens LAYON YAYO. Nun ist es nur noch eine Abstellkammer für meine Na'vi-Fankunst und eben genannten, auf Eis gelegten Comic, sowie meine Gedanken.
Warum ich diesen Ort hier LAYON YAYO anstatt Layona Yayo genannt habe? Nun, weil's ein Eigenname ist, ähnlich wie Toruk Makto ;P
Eana Unil
Teri / About / Über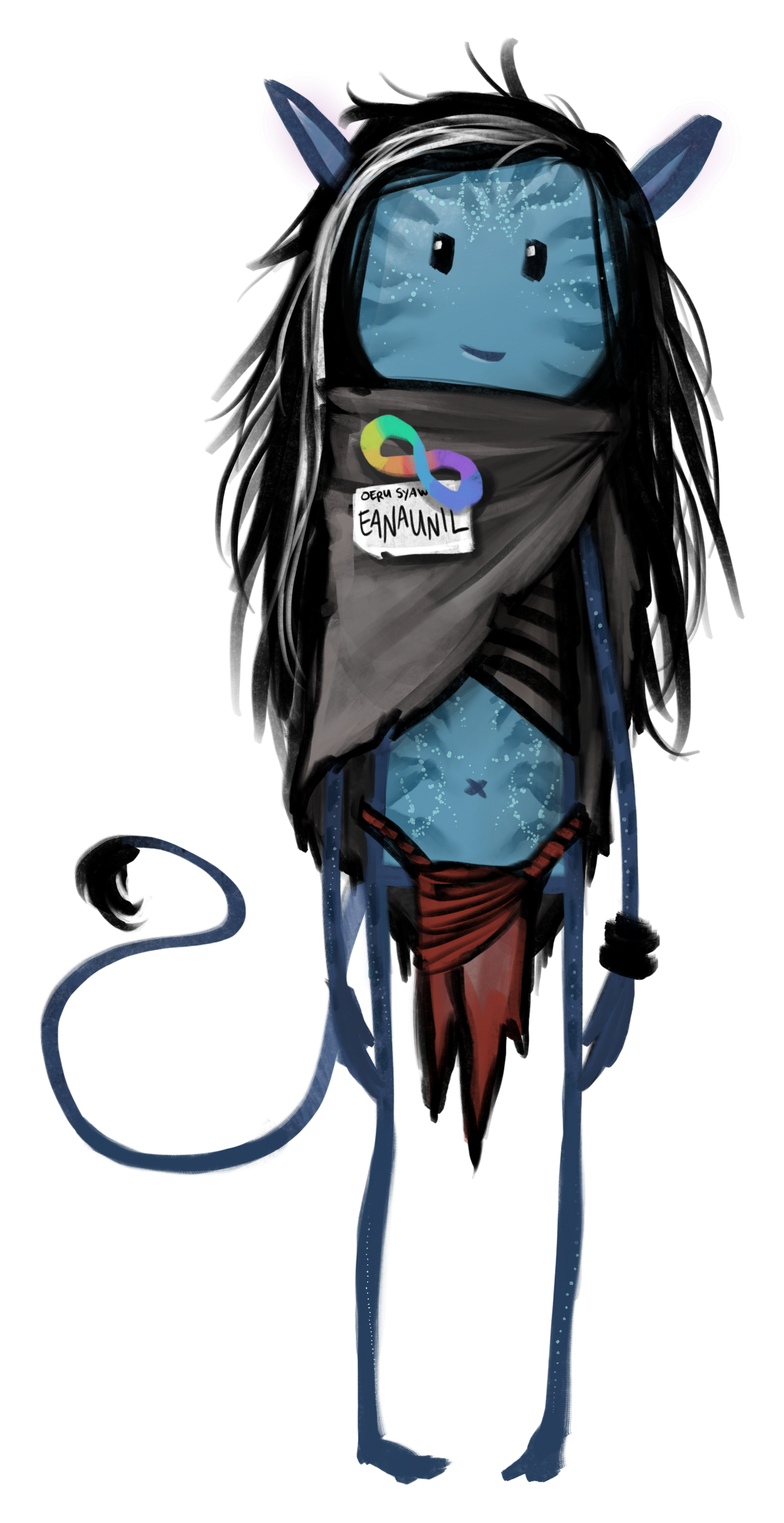 Oeru fko syaw Eana Unil fu SickDelusion fu Krrsì. Lì'fyari leNa'vi ta zìsìt a°3732ve nerume. 'ivampi relit a pa'oti askien tok fte ultxarivun oeti mì seng a tsane tsarelìl ngati seykop.
I'm called Eana Unil, SickDelusion, or Kris. Since 2010 I'm learning about the Na'vi language. Click on one of the buttons to the right to visit me on the respective place.
Ich heiße Eana Unil, SickDelusion oder Kris. Seit 2010 lerne ich die Sprache der Na'vi. Klicke auf einen der rechtsstehenden Buttons, um mich am jeweils verlinkten Ort zu besuchen.
Ayrel / Gallery / Galerie
Finished Artwork, Sketches, Unfinished Stuff and NSFW art
Avatar and the Na'vi belong to James Cameron / Disney. However, every artwork here belongs to me; hence images / artwork
© Eana Unil / SickDelusion / Kris F.
new ← old
3D / CG
Very messy layman 3D sculpting studies and stuff
Videos
Sculpture showcases and drawing processes
Ayrel Apuseng / Comic
'okvur / Archive / Archiv
Sute / Characters / Charaktere
Tìpalang / Contact / Kontakt